"Our captain and leader has not left us, today, tomorrow, this year, next … Our endeavors will reflect our love and admiration for him."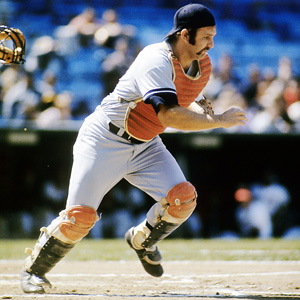 by West Coast Craig
AKRON, OH – A day late here, but yesterday marked the thirtieth anniversary of a true remember-where-you-were-when-you-heard moment, perhaps the first of my life (for twelve-year-old me, I was visiting family on Long Island, waiting in a hot car while my Aunt went into a Waldbaums for some quick groceries on the way home, and I heard the news on the radio): Thurman Munson died in a plane crash.
I'll let others wax on about Munson's career—like former Yanks PR guy Marty Appel, who has a new book about him (Munson: The Life and Death of a Yankee Captain) that's supposed to be pretty spellbinding—and it'd be easy enough to look up his stats… Okay, here are the key ones:
.292 career average
7 time All Star
Gold Glove winner three straight years
And most impressively he rose to the occasion in October, hitting a sweet .379 with a .909 OPS in three World Series (it was Munson who dubbed Reggie Jackson Mr. October, though it was a sarcastic moniker as Reggie's WS average was barely over .100 before those Game 6 heroics in 1977 made the name stick without a trace of irony).
He was also the classic "everyman," the kind of guy fans naturally love, a guy who played hard all the time, who loved to get dirty, who looked like a guy you could be working next to in a factory all day and then having burgers and beers with afterward. He could also be prickly, particularly with the press, and even more notoriously with Reggie, and openly lobbied to be traded from the Yankees to the Indians so he could be closer to his family, the "real world" as he would say, as opposed to the "fantasy world" of baseball. Dying in Pinstripes, however, makes sure he's remembered a Yankee forever…and fondly so. His locker still sits empty next to the current Captain's.
Maybe because I was so young, but Munson was one of those guys who looked like an old guy…the years behind the plate, the scruffy hair and that thoroughly kick-ass side burns/Fu Manchu combination, the not-exactly-svelte physique that had him referred to as "Squatty" (he was also called "Grumpy," and Bob Lemon called him "Meat"). It's almost inconceivable that he was only 32 when, almost as an afterthought, he decided to go for a few touch-and-goes in his new Cessna that tragic day. So often are legends based on a sense of romance around people who died too young—like James Dean in that car crash, or Randy Rhodes in his plane crash, or Michael Jackson in that tragic Pepsi commercial fire—but Munson could one of the worthwhile ones. If for nothing else, nothing quite epitomized those awesome Yankee-Red Sox games of that era—when the two teams truly despised each other—as the battle between the two backstops who also didn't like each other at all, Munson and Carlton Fisk. (And what better to remember in light of next weekend's big showdown?)
Now this is supposed to be a comedy site as well as a sports one, and I'm not sure how anything about Munson is funny (thanks to Cookie for suggesting writing about all the people who probably shouldn't have decided to get pilots' licenses…but I'm afraid John Denver's and John John's passings still cut too deep for me). Appel had previously helped Munson write an autobiography in 1977, a book Appel himself claims to hate, as Munson didn't really want to share anything interestingly personal—like his being raised by an abusive, dead beat father—and instead just wanted page after page of stats. When he first showed a draft to Munson, Munson asked if he could make it "funnier." Appel said sure, "give me more funny stories." There aren't many. I tried looking for some on the interwebs, and the best I could find involved Munson telling Ron Guidry, after he walked the bases loaded, to strike out the side or Munson would break both his legs (was he joking? Guidry didn't want to find out, and indeed k'd the side). I looked up Munson stories in Roger Kahn's October Men, but didn't get much beyond the "Grumpy" Munson cursing out businessmen on plane trips when they asked him to turn his country music down. So he was no Bob Uecker. He wasn't even Graig Nettles…whose own book, Balls, I turned to in trying to find a good story about the Captain. Nothing as good as Sparky Lyle sitting nude in cakes, I thought this was pretty decent, even endearing:

"Thurman loved junk food. He could eat a pizza at every meal. Or cheeseburgers. He loved cheeseburgers. (After Munson's funeral) As we pulled around the corner from the cemetery, there was a string of junk food joints. 'Only Thurman would be buried next to a Burger King and a pizza parlor.' We grinned. It was the perfect place for Thurman to be buried."
So while Munson's story may not be chock full of funny, he was unquestionably a player worth remembering fondly; a guy who really cared about the game – a guy worthy of his "C." In his tribute game, the one Bobby Murcer drove in all five runs of after choking up while eulogizing his great friend earlier, Howard Cosell waxes on and on with the melodrama, sounding particularly forced even for him, but Keith Jackson summed Munson up better and more succinctly in just three words,
"He was a gamer."
(NOTE: The video is pretty long, but for the brief Munson part, forward to the 2:16 mark)

Filed in: West Coast Craig
Tagged with: Bob Uecker • Bobby Murcer • Boston • Carlton Fisk • Graig Nettles • Howard Cosell • James Dean • Keith Jackson • Lou Pinella • Michael Jackson • Randy Rhodes • Red Sox • Reggie Jackson • Ron Guidry • Sparky Lyle • Thurman Munson • Yankees
West Coast Craig reports from Hollywood with an endearingly laid back style. A happily married father of two little boys, WCC has an avocado tree in his yard, plays the hot corner in a "Valley" hardball league and always manages to take cool sports-related mini road-trips, often with his immediate clan. He hails from Oneonta, NY but has been "So very L.A." for twenty years, so his sports teams are the Yankees AND the Dodgers, the Pittsburgh Steelers, the L.A. Lakers and the Colorado Avalanche/Quebec Nordiques. WCC loves bacon-wrapped hotdogs and can touch his heel and his ear... with his hand.