By Philview and The Phanatic

PHILADELPHIA, PA – Though this is now an all sports-site/show, there is an obvious slant towards the NY Mets when it comes to baseball. Despite that leaning, www.MeetTheMatts.com boasts a strong team of contributors from across the nation – from Atlantic to Pacific -and intelligent fans, who for the most part never fail to produce interesting threads of conversation. That's why we personally think this is the GREATEST website in the history of websites; which brings us to our topic:
Our society seems to be driven by the need to "rank" and "list," with the results being a declaration that there is a "greatest." That's the way it is. We're not complaining, though – discourse is absolutely necessary for our survival; without debate and oxygen, we die!
In boxing, Ali said, "I am the greatest of all time!" Others said it was Sugar Ray Robinson. Who was better – Chamberlain or Jordan? Greatest genius – Einstein, right? Or was it Da Vinci? Ben Franklin probably tops a few lists – but which ones? Pop culture thrives on such conversations.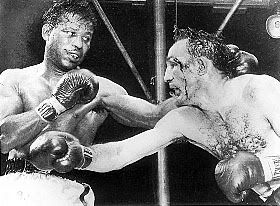 Sugar Ray Robinson vs Jake LaMotta
Recently, hordes of commentators all around the world declared in their eulogies that Michael Jackson was the "… greatest entertainer who EVER LIVED." Now, before Jackson plummeted into depths of weirdness and alleged behavior that only drug addicts and NBC Dateline would understand, he very well could have been the most exciting entertainer we had ever seen. Take a look at the "Thriller" video again, or the nine-minute "Smooth Criminal," or just watch him do the robot during "Dancing Machine." He was electric – but the greatest entertainer of ALL TIME? Come on. Was he better than Sinatra, or Sammy Davis, Jr.? How about guys like Bob Hope and George Burns and Jack Benny who were around for six decades, across every medium? Heck, before he joined the army and started making awful films (certainly not as criminal as pedophilia, but a crime just the same), Elvis gave off a wattage that was unprecedented.
We're sure Enrico Caruso and Mario Lanza fans would cast a vote or two – and you know how certain factions feel about Streisand. Al Jolson would keep audiences spellbound for hours. Springsteen was the greatest the two of us ever saw. And that Jesus guy gave shows two thousand years ago that folks are STILL talking about. The debate goes on and on, as it should be.
We do, however, offer Seven Exceptions. These are indeed the greatest of all time in their categories; iron-clad and beyond contest.
#1) GREATEST MOTION PICTURE ACTOR – Rock Hudson. He made 70 films, and convincingly played a heterosexual in every one of them. We were fooled – weren't you? So was Doris Day. That took acting.
#2) GREATEST MOBSTER – Lucky Luciano. Capone got more headlines, but Luciano was the chief architect of the entire organized crime syndicate system on the Italian side of New York. And unlike Capone, he always knew what was good for "business."
#3) GREATEST "NON-SPORT" OF ALL TIME – Golf. Look, we love golf, that's why it's the greatest NON-sport. But here's the facts – Tiger Woods will never be a "real athlete" until he has to quickly drive off the tee before a linebacker roars in from the blind side. What was that – a click of a camera? Golfers stop, annoyed; disgusted at the interruption. We wonder how they would putt if 45,000 were screaming at the top of their lungs. We laugh when we hear commentators talk about a "brave" shot in golf, as if the players were trying to hit out of the sand at Guadalcanal. Need more concrete evidence? How about this past week? A man pushing 60 almost won a major championship. A 59-year old former major league baseball player wouldn't make a Division 4-F college team and a 59-year old football player might get killed playing at a decent JV level. Need more proof, you say… How about former two-time major champion John "Shake, Rattle, and Fat Roll" Daly? In between three packs of cigarettes per round, he found enough clean air to puff his way through 72 holes and a 27th place finish in the oldest championship in the "sport." Can you picture one of the Knicks puffing away on a cigar during that rare instance when he might be getting back to play defense? It's ridiculous – like Daly's pants.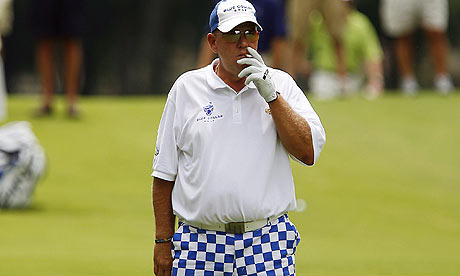 By the way, the greatest golfer of all-time? It's still Jack Nicklaus in our book, because he had to play Tom Watson.
#4) GREATEST BASEBALL PLAYER OF ALL TIME – A century ago it was Nap Lajoie. Then Ty Cobb. Then Babe Ruth. Of course, everyone loved DiMaggio. And who was ever better than Willie Mays? OUR indisputable vote – Eddie Gaedel. The "magnificent midget" – 37 inches of "instant offense" – walked in his only appearance, making him the only one of those esteemed players who never made an out at the major league level. A publicity stunt, you say? Maybe, but years later, when down-and-out Eddie was arrested, when asked his occupation, he wrote "professional baseball player." That's good enough for us.
#5) GREATEST MARTIN SCORSESE MOVIE NOT INVOLVING MARTIN SCORSESE – "A Bronx Tale. It had Italians, great mafia nicknames, street smarts, gunshots, bloody gratuitous violence, senseless murder, Robert DeNiro, and even a cameo by Joe Pesci. It had everything but Scorsese.
#6) GREATEST SEX SYMBOL OF ALL TIME – you mean, other than Marilyn?
#7) GREATEST RETURN FROM THE DEAD OF ALL TIME – we still have to give this one to Jesus, but if the Mets come back this year, well, then it's up for debate.
Your ideas and feedback are most welcome.