NOT-ROBERTO-ALOMAR's-HOUSE, NY – Well, the Matts landed a PLUM interview with Roberto Alomar this week from his posh, Whitestone, NY digs. Not that the MTM's Girl Friday was asked to come along (hmmph!), but if you look closely at the 'Sneak Preview' of the Alomar interview, that fireplace behind them is certainly large enough to fit Tiger's Whole Dirty Dozen in there.
And it did get quite HOT here on MTM during 'Wednesday is Wardsday' (not at Carvel though) with talk about who is deserving to be in the Hall of Fame and who is not. Aside from that, Jason Bay was announced as a Met and former Met and Phantom of the Opera look-alike, Mike Cameron became a Red Sox and shifted that outfield. (Hey Mike… just make sure you don't bump into Jacoby Ellsbury.. ok?!?)
While yours truly is always glad to talk some baseball as we're just thirty-nine days until Pitchers and Catchers report, I've decided not to go that route. That time will come…soon enough. Just like my plum assignment to cover the World Champion Yankees Spring Training this winter in Tampa… right Matts?!? My bikini and tanning butter are on standby.
Following whatever very ill-placed BCS game tonight (I hope 'Bama wins because there are TWO things I am tired of about Matthew McConaughey… seeing him topless and hearing him talk about Texas), I've decided to turn my sights to FOOTBALL. And before Sexy Rexy gets his betting stubs in a bunch about getting scooped, don't worry…Cookie here is taking a different approach to her picks.
My Broncos are glue, Mike Shanahan has gone to the Redskins (ugh) and I have NO allegiance to any team left in the hunt. But, I've got a HUNCH about who will win what this weekend. Without further adieu, here are my picks and the decidedly NON-FOOTBALL reasoning why teams will win or lose.
NEW YORK JETS vs. CINCINNATI BENGALS: The New York M-A-R-K's… JETS JETS JETS will make it a nice, round 10-7 record by beating the Cincinnati Bengals. (This pick will surely sent vinny from brooklyn into an ecstatic tizzy. You're welcome vinny… just don't ask me what happens in the next game.)
DECIDING FACTOR: Emotion. The Jets will eek out a victory after rallying around the loss of owner Woody Johnson's daughter, Casey Johnson. (Drugs? Of course.. we don't need to wait eight weeks for a tox screen… do we?) Aside of that, Carson Palmer is too squeaky clean sounding and Ochocinco?!? Well.. we all know that we'll love to see him shut down.
The Bengals will prove too cuddly to crash the Jets
ADHD Sidenote!! And speaking of New Jersey…all I have to say about former Nets player Jayson Williams is this. I'm glad he crashed that Mercedes… because it was pretty ugly. I mean, if I had beaucoup bucks, that's the last thing I'd be drivin' (aside from a SmartCar or a Prius). And now back to the picks…
BALTIMORE RAVENS vs. NEW ENGLAND PATRIOTS: Sorry kids, New England will go to 11-6 with a newly hepped up papa Tom Brady leading the way.
DECIDING FACTOR: Brady's lack of post-natal sex will manifest on the field and the Pats will BLIND SIDE the Ravens with a definitive victory. Sorry Michael Oher…no Hollywood ending for you. Not this year at least.
GREEN BAY PACKERS vs. ARIZONA CARDINALS: The 11-5 Green Bay Packers will win it here. This should make it more interesting down the road than the Cardinals moving on anyway. No one cares about this win this week. Ho hum.
DECIDING FACTOR: Matt Leinart going to a playoff game? Nah. Besides that, we have Mark Sanchez fresh off his college days… we can't have two guys who can funnel in the playoffs. Burrrrp!
Matt showing his mastery of suckness
…and the BIG East Coast Game… the Groundhog Day game…
PHILADELPHIA EAGLES vs. DALLAS COWBOYS: Someone is going to let the dogs out and it's going to be the Eagles. After that BIG NAP the Eagles had during last week's 'game' against Dallas, the young and HUNGry Eagles will pull it out for a big Dallas upset. A belated Christmas gift for everyone.
DECIDING FACTOR: The Eagles are well rested and the Cowboys will walk in this thing WAY too cocky. And walking around too cocky will always get your SCREWED. Aside from that, Jessica Simpson is now dating Billy Corgan. If that doesn't CREEP Tony Romo out…NOTHING WILL.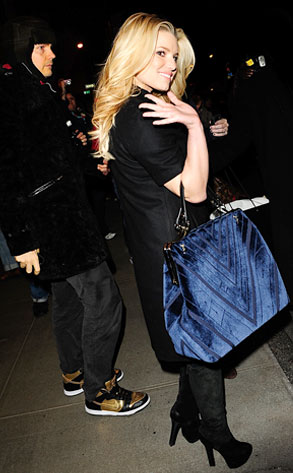 Exceptionally creepy and disturbing to my indie senses
And there it is kids. Take it to the bank. (Editor's Note: SEE?!? SHE's 1 for 1 with College Football! COOKIE ALREADY PICKED THE BCS WINNER BASED ON THIS LOGIC.) You know if I gave you the picks via offensive and defensive analysis, you wouldn't take it from a chick. But take it for the weird factors now and thank me later. You can also thank me for not talking about Tiger Woods or Angelina Jolie's baby bump this week. You're welcome.