NEW YORK, NY – Since Thanksgiving I've ramped up my annual year-end waistline expansion program. December always affords me an excuse to eat and drink too much all of the time. It's part of Being Merry In A Dire Sports Town. The distractions are good this time of year since the state of sports in NY right now is looking bleak. Baseball is still a few months away. Hockey is still a year away. The Jets suck and the Giants are slipping up. At least the New York Knickerbockers are in first place and smoked the Miami Heat last night. Other than that, there isn't much to be happy about in NY Sports right now. Lets take a look:
What's worse than having a sh!tty quarterback? Having three sh!tty quarterbacks. This is the dilemma Rex Ryan and the Jets are faced with. For now they're sticking with the sucky quarterback that they have previously committed to committing to. Jacksonville are probably a little peeved because if Tebow was named the starter, the Jaguars would probably sell out their first game since ever. Even with Sanchez taking the snaps, the Jets should still have what it takes to beat a terrible Jacksonville team. If things don't go well for the Sanchise early on in Jacksonville, look for God's Stepson to take the reins and lead the Jets to glory. Or he'll come in and suck up the joint and never play for the Jets again. I can see it going either way.
The Giants are coming off of a loss to RGIII and the 'Skins. And now they take on a tough Saints team. Finishing out the season against the Saints, Falcons, Ravens, and Eagles, the Giants could very well lose all of their remaining games and miss out on the playoffs after winning the Super Bowl last season. With the exception of the shellacking the Giants gave the Packers, Eli Manning hasn't looked like an elite quarterback lately. The Giants' secondary looks about as mobile as a concussed Short Matt. The defense can't make a stop when needed and the offense hasn't been able to produce the big play. We'll see how they handle this grueling home stretch. My guess is that they won't handle it well.
After a promising week of talks we're still frogging nowhere close to having some frogging NHL hockey. My prediction of a Thanksgiving resolution to the dispute and an early December start to the season seems laughable now. It was a case of wishful thinking.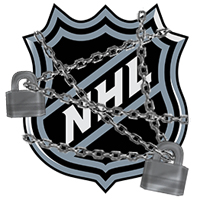 I've been trying to fill the void created by the lockout by watching the AHL, OHL, WHL, KHL, and even some college hockey. It hasn't worked. There's no substitute for the real thing. And unfortunately we won't be getting the real thing any time soon. I'm growing frustrated with the whole thing. I would consider boycotting the league when it comes back next October. But I need the NHL like a fiend needs a hit. The current lockout has got me in the throes of withdrawal right now. I don't think I'll ever kick the habit and I don't know how I'm going to get through February without real hockey.
That's it for me today. I've got to get back to eating and drinking too much. These pounds aren't going to gain themselves.
Filed in: Different Matt
Tagged with: Eli Manning • Mark Sanchez • New York Giants • New York Jets • NHL Lockout • Rex Ryan • Tim Tebow
Different Matt is our cunning Cornell grad/rugby player. "Diff" joined us just after the switch from being "Mets only" to an all-sports stop. He's a Yankee fan; thus he was "different." Aside from the Yanks, he's a diehard NY Giants, NY Rangers and NY Knicks fan. He also likes long walks on the beach and cappuccinos and nearly died in Las Vegas.