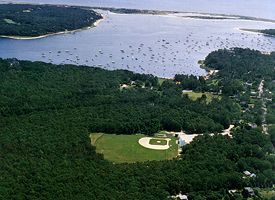 Centerville, MA. — It's pledge drive week on the NPR station I listen to back home, so what else is there to do but get out of town? It's that mid-August stretch right before the dog days, and if you're gonna vacate, now's the time to do it. So your insipid…er, I mean, intrepid reporter has traveled back east, a bit further east than most of you dear readers at the moment, to Cape Cod. My team of interns has been busy procuring me the finest fried clam rolls and oysters, scallops the size of a child's fist. At last, a week where I don't have to see my Governator in the paper every day. Wait a minute… It's Red Sox Nation heartland out here, a region of muted frustration this weekend following a double whammy of Big Pop-up's refusal to mea culpa and a bittersweep symphony of offensive ineptness. Six back in the loss column and talking about the Wild Card now? At least Bellichek and the Patriots are back in camp. And there's playoff baseball already here…in fact, it's right here in town (well, a "densely settled" area amidst trees).
A couple of weeks ago I wrote about California's Golden League, for players in the golden years of their dream of stepping out on a major league diamond again…today I'm reporting on the spring chicken version, the Cape Cod League. These are college kids, amateurs still, but some of the best amateurs in the country. They say it's about the equivalent of High-A ball. There's only 200 players invited here every year for the two-month long season, the league flies them in and puts them up in peoples' homes. If you're into the whole foreign exchange thing but don't want some foreigner in your home? How about a baseball player? This is one of the traditions that make it pretty unique. According to their site, 207 former Cape Cod Baseball League players were on Major League rosters in 2008, that's about 30% of all professional players. How would you like to be the people who cleaned up the spare room for Evan Longoria, Chase Utley, Tim Lincecum, or Mark Texiera back when they were just kids? (Lincecum and Utley below:)
It's a league that still uses wood bats, giving these players (and scouts) the chance to see how they'll do without the aid of one of those thousand dollar composite bats with the compressed nitro inside. There's also a much tougher daily schedule than the college game, giving the players (and scouts) the chance to see how they respond to the grind. The pitching is top notch as well, with kids who already have some polish and command, and a lot of heat. Perhaps what you're reading right now will be the first you hear of Chris Sale and Chad Bell, the opposing pitchers in the first game of the anticipated Yarmouth-Dennis Red Sox — Cotuit Kettleers best-of-three second round series…part of a new format they're trying in a league that's been around since WWII. Cotuit, which fields a team of menacing looking sluggers big with the bat but not so much with the glove, against a noticeably smaller group from Y-D, who play a nice brand of little ball. In today's game, they manufactured runs with bunts, steals, and timely opposite field hits, while Cotuit hammered home runs but also bobbled said bunts and had runners thrown out at least three times. The series is split, with the winner of this afternoon's game facing the Bourne Braves. If you're interested, the Hyannis Mets didn't make the play-offs, probably because they don't have any Matts working for them.
The season lasts a bit longer than one of the boutique meets in horse racing, like Saratoga or Del Mar in August, and inspires a rabid base of highly knowledgeable fans. They follow the games and the players, know their history–which is tough, because players are usually only here for a single season before moving on–and know the game. The coaches have an obvious passion for the game, sitting on Diamond brand baseball buckets behind the mesh of the dugout wall. The players are all wide-eyed and thrilled-to-be-here, the cynicism of a life warding off the barbs of bloggers years away, and they are indeed very good. They sincerely seem to love it, and they have to deal with this humidity, these mosquitoes, and the occasional fog-delay.
There's one drawback that could be a deal-breaker, there's no beer served. The horror! But this is puritan country still, and when you see the intensely family atmosphere of the games, it makes some sense (besides, these Cape Codders are terrific lushes…especially the ones like my brother, Centerville Brett, who endures the long winters shut inside). Maybe it could use the beer revenue…the league operates on less than $2 million a season…and seeing a game, even a playoff game like today's, is free. Parking, free (you just have to park along the road and walk through a woodsy neighborhood to get to the field). The place gets packed with nearly 2000 fans (in a place that's supposed to hold maybe 600), lining the green chain link fence with beach chairs all the way around. Between innings a bunch of kids come around with plastic buckets, "passing the hat" for donations. And yet Major League Baseball–who grants the league a nice $100 grand a year–decided to play hardball with it, and demand that teams with MLB names use the pricier MLB Licensed Venders, or lose the money. This put a lot of teams into the position of choosing between local sponsorships and the MLB ones, and a number of teams changed their names (six remain, but may change in the future…I hope one chooses "Clam Rolls"). Within their rights? Sure, but it's still a jerk move. This league represents everything that's cool and right and fun about the game, and I'd like to think it'll get along fine without big brother's help.
At any rate, like I said, I'm on vacation so I'll end it here. Since including a video at the bottom of the post has become practically mandatory, I'll leave you with this, from a rather forgettable 2001 baseball comedy called Summer Catch, which ostensibly took place in the Cape Cod League. It's pretty lame, but it's got Jessica Biel in a bikini.