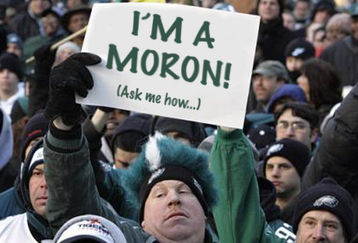 BROAD STREET, PHILADELPHIA, PA – Nothing short of an Angelic comeback will stop a Metropolitan nightmare. Of course I'm talking about a Yankee/Phillie series. I haven't counted out the Angels just yet but I fear this Rosemary's Baby World Series will arrive alive instead of stillborn. Some of my fellow Met fans on this site feel it is OK to root for the Yanks and that is their right. In reality most Yankee fans are fine people especially our very own Mrs. Matt, Cookie, Rex O'Rourke, West Coast Craig, etc. My sister and brother are Yankee fans and even my Mom roots for the Yanks. Yes Grote's heart aches to admit this but it is true. I can't help it if my kin have been seduced to the dark side. This does not make them bad people, just a bit misguided. Like the typical ugly American ordering a cheeseburger in Rome, Yankee fans can be obnoxious but they are mostly harmless. What I abhor most is the organization itself, but that is well documented.
Instead this column is about the defending World Champs. I've come to dislike the Phillies' over the past few season especially with their negative comments about my Mets, but I don't hate the Phillies' organization. They have smart baseball men running the front office and have put a quality product on the field. The Philadelphia fans on the other hand are hard to like. You know the fans I'm talking about, you can see them most every week on episodes of Cops. They threw D batteries at J.D. Drew and a car battery at Mike Schmidt.
Awful fan behavior is a tradition in Philly. I'm fairly certain Philadelphia A's fans were flipping over and burning Model T's in celebration of their 1910 World Series victory. Everyone knows they infamously booed Santa Claus during a 1968 Eagles game before pelting him with snowballs. That Santa ended up being the basis for Dan Aykroyd's character in Trading Places.
Eagles games had so many arrests the city set up a courtroom at Veterans Stadium to handle all the cases. I heard Guantanamo Bay guards were trained at the Vet's holding pen. Mild mannered people get into shootouts just by entering this town, just ask Marvin Harrison. I'm pretty certain if a parent brings a child to a Flyer's game ushers are advised to immediately notify social services. Philly fans know they got their money's worth at a game if they wake up with bruised knuckles and a black eye. And these are the women I'm talking about people.
It's very possible the Yankees won't look so bad to me during the series once the Michael Irvin factor comes into play. Michael Irvin was to sportsmanship like Pol Pot was to human rights. But Eagles fans actually turned this [alleged] prostitute-loving crackhead into a sympathetic figure when they cheered as he was carried off on a stretcher. Herein lies the dilemma, can I root for the Phils knowing that these savage animals known as Phillie fans will rejoice in victory by burning cars and looting Cheesesteak huts? These moronic criminals are most dangerous because they have no sense of what is socially acceptable, becoming a danger to everyone around them.
I'm afraid I won't be able to watch the series at all this year knowing that evil will prevail. This is why I am rooting so hard for the Angels to pull off the miracle.