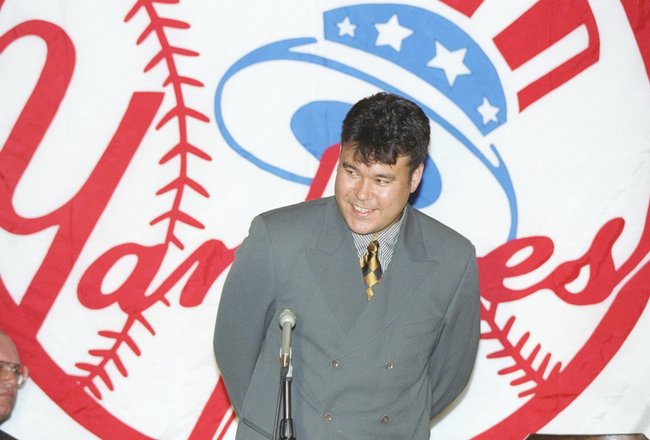 New York Yankee Team Headquarters- Hideki Irabu was found dead of mysterious causes the other day. Some are calling it a suicide, but The Public Professor's here to sort it all out for you.
George Steinbrenner once infamously dubbed Japanese import Irabu "The Fat Toad." But Yankee fans had already started calling him "Hideki I-Rob-You," which was a much better nickname. Steinbrenner's "Toad" was uncreative and uninteresting. The fans' moniker not only highlighted Irabu's lowlight performance with the Bombers, but also pointed out what a dunce Steinbrenner himself was for coughing up all that money for the guy. And now he's dead. Found swinging from the rafters in his L.A. home.
There have been some off-color jokes about this being a case of seppuku (ritual suicide), the shame of his MLB failures too much to bear. But I reject that. I have a much better conspiracy theory. Rather, it was Hal and Hank Steinbrenner who could not bear the shame of their father's most notorious flop outliving the old man. They waited a year so it wouldn't look suspicious, then hired Howie Spira to off him and make it look like suicide.
For those of you too young to remember Howie Spira, he was the lowlife that Old Man Steinbrenner paid to dig up dirt on Dave Winfield. Why would an owner do such a thing to a player? Steinbrenner was hoping it would give him an excuse to not make contractual payments to Winfield's charity for children. Seriously. You can't make that kind of stuff up.
It led to Steinbrenner's second suspension from Major League Baseball. The first, of course, resulted from him being a politically corrupt felon.
What? Yes, yes, yes. In 1974 Steinbrenner pleaded guilty to several felonies, including: devising a scheme to illegally funnel corporate campaign contributions to politicians; making "false and misleading" statements about $25,000 he donated Richard Nixon's 1972 re-election campaign; and trying to influence and intimidate his employees into giving false information to a grand jury.
So not only was Steinbrenner illegally handing out money to politicos, lying about it, and bullying his employees to cover for him, but he was giving money to Richard friggin' Nixon of all people, and at almost the exact same time that Nixon's goons were trying to subvert American democracy through the Watergate break-in and cover up.
This of course was what Billy Martin was referring to when, while responding to a question about Reggie Jackson and Steinbrenner undermining his authority on the team, he famously uttered: "One's a born liar, the other's convicted."
God, I miss Billy.
Anyway, Ronald Reagan ended up giving Steinbrenner a pardon. I don't miss Reagan. Or Steinbrenner.
But I will miss Hideki Irabu. Because even though he was a god-awful pitcher whose failures on the mound caused endless frustration for Yankee fans such as myself, he was also a constant reminder of why Steinbrenner needed to keep his paws off the team. Irabu was a poster child for Steinbrenner's personnel dumb moves, and an easy card to pull when some apologist would wax rhapsodic about "The Boss."  Yech.
After all, the two times Steinbrenner was suspended are the only two times during his four decades-long reign of terror that the front office was able to free itself of his bullying and meddling, and build teams that won multiple championships.
So, so long Hideki I-Rob-You. We will honor your memory not by dredging up your terrible stats. Rather, we will keep you in our hearts by championing a lunatic conspiracy theory that the Steinbrenner boys unearthed Howie Spira to do you in.
Rest in peace, Sweet Toad.
There's no rest for Cheesy Bruin, who brings it full force tomorrow.