BRONX, NY – Last week one of the old Yankee legends of the fifties died. Bill Skowron won seven pennants and four championships as a Yankee in the 50's and early 60's and one more for the Dodgers in 1964.  While Mantle and Marris were chasing the Babe's record in 1961, Skowron quietly hit the third most on the team with 28, helping establish an incredible team home run total of 240.  The thing I liked most about Skowron was that he was known as Moose. Nobody called him Bill. Whenever Bill White or Phil Rizzuto would talk about him on old Yankee broadcasts it was always Moose.
In honor of Moose, and all the baseball players who represent the animal kingdom, I give you Grote2DMax's All-time Baseball Animal Names. In order to qualify, these guys had to have names that were predominantly used when playing. Guys like Phil Garr and Ron Cey had cool animal nicknames like Roadrunner and Penguin but nobody referred to them by that name all the time.  These guys either were born with these names or were known by only these names throughout their careers.
First Base: Moose Skowron – Even though he was a big guy he wasn't nicknamed Moose for his size.  Rather, he got the name because his childhood friends thought he looked a lot like Benito Mussolini and the name stuck.  His sister wasn't so lucky because the same group of friends nicknamed her Adolf because of a patch of upper lip hair directly under her nose.  She offed herself in a bunker a few years back.
Second Base: Nellie Fox – Despite having a girls name, Fox was able to become a Hall Of Fame player for the White Sox.  Then there was Fran Healy, who had a girls name and played like one too.
Shortstop: Chicken Stanley – His real name was Fred but if you watched the Yankees games in the seventies, you would never hear Scooter Rizzuto refer to him as anything but Chicken.  Gets the slight nod over Rooster Burleson only because he went by Rick a good bit of the time.  Plus, as Frank Costanza pointed out, a Rooster is a bit perverse sleeping with both the hen and the chicken.
Third Base: Mike Lamb – A pretty decent player for the Rangers and Astros who refused to bunt because he thought he'd be stereotyped as a sacrificial lamb.
Left Fielder: Goose Goslin – Hall of Famer from the thirties who was also part of one of my favorite trades of all time when he was traded by the Senators to the Browns for General Crowder and Heinie Manush.  Yes that Heinie Manush.
Center Fielder: Kevin Bass – Always a thorn in the Mets' side, especially in the 1986 playoffs, Bass was left singing a sad tune after being struck out by Jesse Orosco for the final out of the NLCS.
Right Fielder:  Rob Deer – Usually roadkill, except for that rare fastball he'd launch 475 feet into Bernie Brewer's front porch.
Catcher: Jimmie Foxx – Though he played most of his career as a first baseman, this Hall of Famer also caught over 100 games.  He also hit over 500 home runs, won 3 MVP awards and inspired a young comedian named Redd Sanford to take his surname for use on stage and screen.  His Aunt Esther was not amused by Sanford and Son, whatsoever.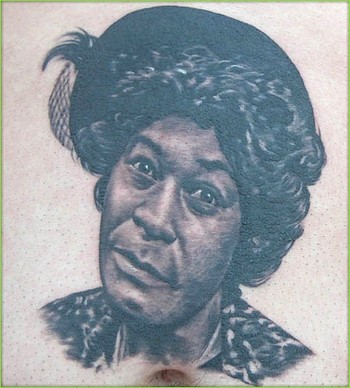 Starting Pitcher: Catfish Hunter – He gets the nod over Randy Wolf, Dizzy and Steve Trout and Jim Panther.  The reason isn't because he was a Hall of Fame pitcher who threw a perfect game but rather Catfish is the best damn nickname ever bestowed upon a baseball player.
Closer: Goose Gossage – The Goose was a beast and certainly deserves to be in the Hall of Fame not only for his pitching prowess but also for his fu manchu mustache.  My favorite Goose moment was when George Brett took him to the upper deck to clinch the 1980 ALCS, which sent George Steinbrenner into a rage and amazingly, the Yanks 103-game-winning manager Dick Howser's goose was cooked.
Stay tuned tomorrow for our All Star closer, Angry Ward.