by Rex O'Rourke (BBC-4)

Turnberry Castle, the birthplace of Scottish King Robert Bruce – where the 2009 British Open is being played.
TURNBERRY, SCOTLAND– Look folks, I could have written today about the Mets and Johan's solid start or the Yankees taking the first two from the Bengals, or even Lance's stalking the field in the Tour, but the story is Tom Watson at the British Open, plain and simple.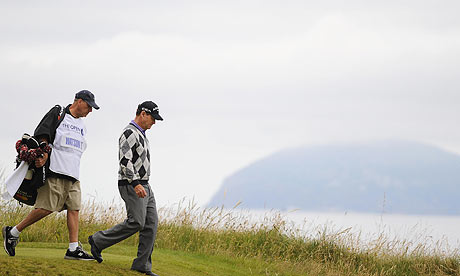 Let me tell you why this guy, more than any other old guy, can get this done:
He manages the course and the wind slash rain slash weather better than anyone else.
He's up against a few youngsters who haven't been there and haven't played a lifetime of links golf.
Tiger missed the cut and isn't lurking. (By the way, note to Tiger; you can't play 8 competitive rounds a month and expect to be sharp enough to win majors. You need to play more golf.)
Finally, unlike last year, Tom Watson ain't Greg Norman. A 68 will ensure 6th Claret Jug.
He'll be 13 years older than any other major champ and if he hasn't blown up by now, he might not at all. Jack Nicklaus at Augusta in '86, in another thrill ride, is the oldest until someone unseats him:
Goosen is a guy that could crash the party, or even Furyk or Westwood, but make no mistake, Tom Watson is the story, the favorite, the sentimental favorite, and the favorite son. This is great theatre and you don't have to like or even appreciate golf to be pulling for one of the classiest guys in the game's history who just happens to be 2 months from his 60th birthday. Watson was supposed to be helping out in the booth after playing two ceremonial rounds of 75, taking a shower and grabbing a microphone; instead he just might do the unthinkable. No one's going to hand it to him and the odds are definitely against him, but this reporter thinks he's got a 50-50 chance.
The beauty of the British Open (I still call it the British not the Open Championship) TV wise, is you can watch the final round and still have the rest of your day free. GO TOM!
Until next week,
Rex
P.S. 40 years ago tomorrow men landed on the moon; happy anniversary to Neil Armstrong, Buzz Aldrin, Michael Collins, Gene Krantz and everyone at mission control.
Rest in peace Walter Cronkite.


Walter Cronkite and a CBS Camera crew use a jeep for a dolly during an interview with the commanding officer of the 1st Battalion, 1st Marines, during the Battle of Hue City. 02/20/1968
West Coast Craig, tomorrow.