New York, N.Y. – It's time for some of our most famous sports figures to make their New Year's Resolutions. So without further ado…
Omar Minaya – I vow to emerge from from my self induced coma and begin the process of finding a first baseman, second baseman, right fielder, left fielder, catcher, and half a pitching staff.
Additionally, I will hire players regardless of race, color, or creed.
Brett Favre – Shortly after the season ends I will inform my team of my intentions for the 2010 campaign and I will stick to my decision.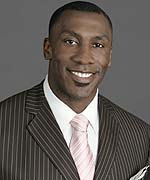 Shannon Sharpe – I will hire a voice coach since currently no one can understand a word I'm saying.
Al Davis – I will hire a GM and stop wearing sweat suits.
Vin Scully – I will not retire.
LeBron James – I will stop covering the first two rows in talcum powder, stop getting tattoos, stop side line dancing, and come to the realization that until I win a ring or three, I'm Charles Barkley with a better body. I'm going to ask myself, "What would Michael do?"
Charles Barkley – I vow not to change a thing, especially my golf swing, which is hilarious.
Jose Reyes – I will play hurt.
Johnny Damon – I will realize Scott Boras is an idiot and take a two year deal to resign with The Yankees. I mean really, where else am I going to go?
Brad Childress – I will shave my beard. My head looks like it's on upside down. Also, I vow never to wear Wranglers.
Urban Meyer – I will eat my vegetables and do what the doctors tell me.
Ozzie Guillen – I promise not to change a thing.
And finally…
Tiger Woods – I vow to be a one woman man; faithful, loyal, and loving. What's that? She's divorcing me?! Never mind!
As for my once stellar football picks, the ship has started to take on water lately, so follow my advice at your own risk. After an 0-2-1 week I stand at a still very respectable 26-16-3. However, my confidence is waning a bit. This week I like The PACKERS (-14) over The Seahawks, am smitten with The Ravens (+2.5) over The STEELERS, and love The EAGLES (-7) over The Broncos.
Happy New Year,
Rex