BALTIMORE, MD – I was at Camden Yards on Wednesday night.  My good friend Brad is moving to Petaluma, and he wanted to see one more game before he split. So three of us went down, stood in line, and got some cheap seats. Then I found my neighbor who works as an usher, and he got us better seats in left field, lower deck, about a dozen rows back.  When J.J. Harding hit a two-run shot to put the Orioles up 2-1, the ball tipped off a guy's hand in front of us and then skipped behind us.  If you watch the highlight, you can see Brad falling over and spilling my beer amid the flurry.
But let me tell you about this magical night.  The press has already trumpeted it as one of the best-ever for baseball, covering every detail of Tampa Bay's historic comeback and Boston's epic collapse.  But there, on the ground, it was something else altogether.
I'm a dyed-in-the-wool Yankees fan, born and raised in the Bronx. So it was a truly bizarre night. I was rooting against my own team, hoping they would lose down in Tampa, and that Baltimore could pull out just one more improbable come-from-behind upset of Boston. Why root against my own team?  It's simple:
Hate before love.
The Yanks were already in and all I really wanted was to keep Boston out. Fu#king hate the Red Sox, as in way more than a rational adult should. But there was also the local dynamic.
Boston fans always pack Camden Yards when the Red Sox are in town.  It was a 50-50 crowd on Wednesday to start, which is actually pretty good for Baltimore; with the economy in the shitter, New Englanders aren't coming down as much as they used to. However, it leaned more heavily for Boston after the 1 1/2 rain delay.  Sawx fans were getting loud: they had more on the line, many of them had come all the way down from that fetid, provincial backwater, and Baltimore fans are beaten down, angry and quiet like an abused child.
But as a New Yorker who's been living in Baltimore for ten years now, I was the happy pivot point.  I was sporting my floppy  O's  hat, which I'd picked up at as a freebie at a prior game, and set about supporting the hometown fans of my adopted city.  I was part of Baltimore, and we all united in our hatred of Boston.
Every step of it was tense.  Even the rain delay was riveting as the Diaomond Vision, or whatever the hell they call big stadium TVs these days, was simulcasting the overshadowed but still amazing Atlanta-Philadelphia game, cutting in with highlights from Tampa, notably Longoria's first home run to cap off the six run rally, and then Jonhnson's two-out, two-strike game tying shot in the ninth.
Absolutely everyone was scoreboard watching, and all the O's fans were fired up by the Rays' legendary comeback.
But of course our game was the centerpiece, and it was absolutely gripping.  The key double plays, the plays at the plate, the overturned ump's call, the home run just out of my grasp, Papplebon's fantastic collapse, Robert Andino's heroics, the Orioles jumping up and down like they'd just won the World Series, and every single one of those god damned Boston fans, who'd been chanting and clapping and cheering and roaring and screaming and high fiving, each and every one of them shutting the fuck up on cue, dutifully filing out of that beautiful storm-drenched stadium, and quietly shuffling up the aisles while Brad and I pumped fists, beat our chests, and celebrated.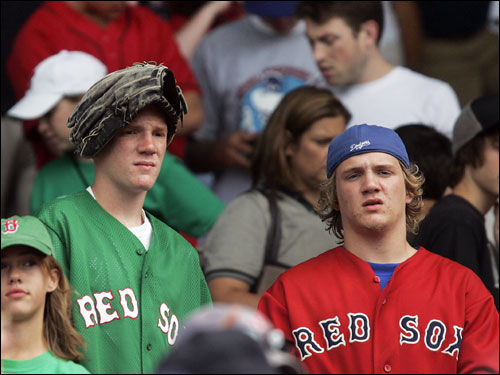 No sooner were we walking through the concourse when we heard the roar go up.  The Rays had won.  Word filtered out quickly, and Brad confirmed on his phone.  Home run in the twelfth.  Over.
I never knew I could be so overjoyed by my beloved Yankees losing a game.
Hate before Love, people.  Hate before Love.  And don't you fucking forget it.
You can hate me here, here, and here.  But make sure to come back tomorrow for a real lover, Cheesy Bruin.