by West Coast Craig
COOPERSTOWN -The topic of Greatest Living Ballplayer is always fun, in an utterly useless kind of way…the kind of thing to argue over beers until bottles are smashed and their jagged edges are waved threateningly about and somebody gets gashed ("I…gasp…still say it is…glurp…Robin…Yount…."). It's a title, by the way, which was started by gimmicky sportswriters to celebrate baseball's centennial in 1969 and went to Joe DiMaggio more out of a sense of romanticism and nostalgia than his actual stats. Blasphemy (!) I hear, especially from a lifelong Yankee fan such as myself? Maybe, but you know that New York bias was far bigger then than even now…and it's arguable that at least a half a dozen players actually had better, longer careers than Joltin' Joe—who retired, a shell of his prime, at the ripe young age of 36—but the title helped sell a lot of coffee makers. (on a side note, I wonder how the notoriously private and tightly wound DiMaggio would deal with today's invasive press? Would he wilt? Would he explode? Would he rise above it all? I'd like to think the latter). There are definitely a few guys out there who could claim the title now—Stan the Man Musial, Hammering Hank Aaron, Yogi—and the consensus is of course Willie Mays, and probably rightly so. The thing is, I never saw the Say Hey Kid play, apart from videos…and that Treniers song, which is definitely the Greatest Song Tribute To A Player, living or otherwise.
So of the players of my lifetime, who would it be? Without Balco, Barry's name could be in the discussion. Without gambling, Pete Rose's may have been. A-Rod, despite the legion of haters, could one day be in it…though admittedly it'll take some mythic October feats to win enough people over. Could the Manny one day hold the mantel? Certainly Albert Pujols has made a strong case for himself already. For me, however, it's got to be Rickey Henderson. This isn't just some fashionable love-fest in honor of his induction into the Holy Shrine at Cooperstown…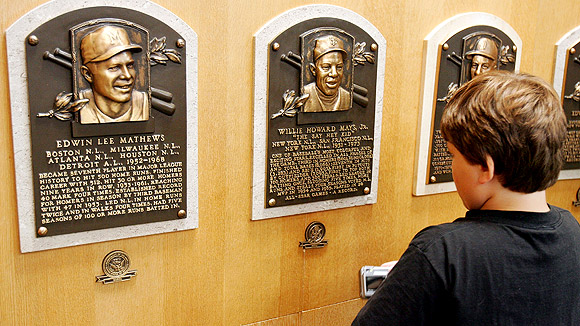 …and it isn't a devotion evolved simply from my being a fan in his Pinstripe years (Mattingly was always my guy, of course). I always liked the guy, but my full appreciation came around the end of his career – I think it was when he played for the Red Sox in 2002 and they were at Chavez Ravine for a rare interleague visit – and we were in our customary seats in the Left Field Pavilion, three rows back. Everybody was yelling at him out there, and if I remember correctly he even misplayed a ball in the corner, which made the jeering louder. Rickey being Rickey, he turned around and gave some good gestures back, playing it up, obviously loving every second of it. Then, leading off the next inning, he hammered one over our heads for one of the last of his 297 home runs. He came out there for the bottom half again, with a big smile on his face, and pretty much effectively shut everyone up. It was awesome.
Rickey Henderson did in fact go into the Hall of Fame yesterday, a first year ballot inductee, and when this was announced back when football season was still going on, every fan marked their calendars in anticipation of Rickey's acceptance speech. It was a nice speech, humble, charismatic, some good anecdotes, a great mix all around. His best friend and former teammate Dave Stewart expected this Rickey, the one who deliberately slowed his speech down to get it all out there intelligently, humorously, and respectfully, "the one I was hoping everyone would see." Not once did Rickey use the third person, apparently a notion he even bristled at in the days leading up to it. A conscious decision, made in part with the Laney College of Oakland speech students who helped him write it, Rickey stuck to the basics: Thank everyone, talk about childhood, talk about the game, talk about mom, talk about owners and coaches, share some colorful stories (a good one about Reggie Jackson never signing an autograph for him when he was a kid), tell the young people to "follow your dreams," and then throw in a little twist at the end by not repeating his famous "Today, I am the greatest" statement made when he broke Lou Brock's record, but going the other way and repeating how humble he is. Well done Rickey, you proved you're a class act all the way.
Because I, however, am no such class act—and with many apologies to Mr. Henderson—I thought I'd take a crack at what I would've suggested had I been a student at Laney and Rickey had come to me:
"First of all, Rickey wants to thank God, Rickey's mother, Rickey's wife, and Rickey's daughters – the Rickettes. Rickey is very humbled standing here. Rickey often stood in front of a mirror on game days, swinging a bat, completely naked and saying "Rickey's the best." and never once felt humble. Look at this body, people. Fifty years old and still cut like a diamond. But this here, this is something else. Rickey doesn't do well talking to a big crowd of people. Rickey does better talking to his bat. Rickey's bat knows what Rickey's talking about, though sometimes the bat would swing at pitches Rickey didn't think it should've. Rickey sometimes struck out, but that's okay, Rickey would tell himself he's still the best. When Rickey got his first bonus check for a million dollars, Rickey hung it on his wall. Rickey should've cashed it. Now I'm getting this nice plaque, and I was going to bring it home and hang it on the wall too… but they tell Rickey that it has to stay here. Rickey's going to have to get a replica. I see Jon Olerud is in the crowd…that's right, I know who you are, and you're not even wearing your helmet today. Where's Bobby Bonilla? He still owes me that pot from our poker game in the clubhouse that was so rudely interrupted by our team winning that playoff series. Rickey played with Billy Beane before Billy Beane became Billy Beane. Rickey invented Moneyball. I said "if they want to pay me like Gallego, I'll play like Gallego." I told Jason Giambi when he first came up to start reading the Wall Street Journal…I said Rickey isn't ever going to go broke…and Rickey never did. I told Brian Cashman when he was just a youngster in the Yankee office that I was waiting to cash my check until the money markets went up. Rickey knows all about Moneyball. Rickey had a career On Base Percentage of .401, a career Slugging Percentage of .419…that's a career OPS of .820! That's right, Rickey knows OPS. Rickey was an October player…in 14 playoff series my OPS was .831, in three World Series it was, get this, 1.055. Yes indeed, Rickey's the best. Now I want to talk to you young people out there, Rickey has some advice: Follow your dream, run 3-5 miles every other day, do 200 crunches and 100 push ups every day—you don't want to look like Hulk Hogan, so don't worry about the weights—stretch out before you go to bed so you wake up loose, and most importantly, eat lots of ice cream. Rickey loves ice cream. In closing, Rickey just wants to say, now that I've accepted this great honor here today, I can officially announce…that I'm still not officially retired! Rickey's still a free agent and Rickey still wants to play ball. Until then, as Rickey once told Lou Piniella, let's let bye-byes be by-byes."