MIAMI, FL – The new season of The Franchise begins tomorrow. What is The Franchise? Well it is baseball's answer to the NFL's Hard Knocks series. In fact, this Showtime series is in it's second season, with the first coming last year featuring the World Champion San Francisco Giants. I didn't see any of the SF Giants episodes but this year's series featuring the Miami Marlins might be a train wreck that I cannot avoid.
The Marlins were supposed to be World Series-bound this year but are under performing and will not even have a representative on the NL All-Star Team. Giancarlo Stanton was initially named to the team but couldn't go because of a knee injury and the rest of the team is so bad that he was not replaced with another Marlin. Needless to say this has caused issues with owner Jeffrey Loria who was expecting the Showtime series to hit just as his team was showcasing their high priced players at the mid summer classic.
Here are some things for you to watch for this season on The Franchise:
Jose Reyes bemoaning the lack of celebrating the Marlins do in the dugout. He immediately tweets Chad Ochocinco asking for help.
Carlos Zambrano having a heated conversation with an imaginary friend in the Marlins clubhouse. The conversation ends with Zambrano's locker smashed to pieces.
Mark Buehrle deftly hiding his jewelry in his dress shoes after realizing his locker is next to Hanley Ramirez's.
Heath Bell winning the Marlins bullpen hot dog eating contest with 27 during one inning.
Jose Reyes demanding the Marlins cut Greg Dobbs because he "can't learn the simple 18 move handshake" Reyes developed in the off-season for Marlins players to greet him with at home plate after he scores a run.
Ozzie Guillen yelling at Heath Bell on the mound to wipe the mustard off his face.
Ozzie Guillen having a heated conversation with an imaginary friend in the Marlins dugout. The conversation ends with Carlos Zambrano's locker smashed to pieces.
Hanley Ramirezwalking around with a gold chain that looks an awful lot like the one Carlos Zambrano accused his imaginary friend of stealing.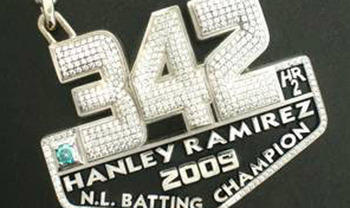 Giancarlo Stanton, formerly known as Mike Stanton, trying to convince Omar Infante to change his name to Gianomaro Infante to no avail.
John Buck annoyingly screaming at his teammates on the bench "Can't anybody here speak English?" Confused about what is happening Jose Reyes asks Ozzie Guillen "Que pasa con el?" to which Ozzie replies "Yo no se."
Giancarlo Stanton trying to convince Logan Morrison to change his name to Gianlogano Morrison to no avail.
Proceeds from Ozzie Guillen's one dollar swear jar funding a weekly booze-filled night at South Beach for the entire team.
Jose Reyes taking himself out of a game after leading off with a bunt single. When questioned afterward Ozzie defends his shortstop saying "That's how that motherf**ker rolls, okay? He won a motherf**king batting championship you f**king p*ssy, what the f**k have you won you f**king sc*mbag?" Ozzie's mother then apologizes to Ozzie for even asking him the question.
Stay tuned tomorrow for Angry Motherf**king Ward.