They're lazy and they're kooky
They're injured and they're pukey
They're really missing Mookie
The Wilpon Family.

Their field's a mausoleum
When people come to see 'em
They hardly are a te-am
The Wilpon Family.

NEAT…
SWEET…
PETITE …

So get your Seaver shirt on
A subway you can crawl on
We're gonna pay a call on
The Wilpon Family.
FLUSHING, NY—With the season mercifully over, and Halloween right around the corner, it's high time we look at the Mets for what they really are: an old black and white TV sitcom based on a series of New Yorker cartoons about a bizarre and somewhat frightening family. I'm not kidding, the similarities between the current Metropolitans regime and The Addams Family is downright scary. To wit…
Gomez Addams: Look, if anyone's gonna be Gomez here it's Omar Minaya. Like Gomez, Omar is blindly optimistic about every move and deal he makes. Like his TV counterpart, Omar also has an extremely short attention span, which inevitably keeps him from learning from his mistakes. As Gomez is susceptible to anyone speaking French, so does Omar fall under the same amorous spell upon hearing espanol. He's also quite smitten with the true head of this dysfunctional family. Speaking of whom…
Morticia Addams: Jeff Wilpon, come on down! Yep, Mr. Wishy-Washy himself. Jeffy's the guy who is really running this circus. And just like Morticia, it's Jeff who gets his arm, as well as various other parts of his body, kissed by Omar. It gets especially hot and heavy when he drops words like contract extension or it's not your fault.
Thing: Razor Shines. This one is a no-brainer. Razor spent the entire summer waving runners around third and to their doom like everyone's favorite disembodied hand. And, like Thing, he's somehow thought of as indispensable to the family.
Uncle Fester: Chris Carlin. Another one that doesn't take much thought. Just as Fester is constantly front and center during the Addams Family's foibles, so too have the Mets decided to make Carlin a prominent broadcast face for their franchise. He's every bit as handsome as Fester but, sadly, can't light a bulb by placing it in his cavernous mouth.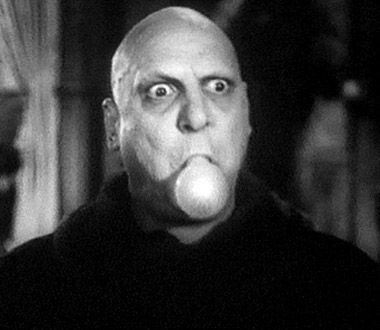 Pugsley: This one is not as easy. Pugsley is a kid with a great many skills, he can seem a bit stoic at times, and he's always threatening to kill someone or something but never does. Hmm, who on the Mets is talented, stoic, and lacks a killer instinct? Oh yeah… Carlos Beltran!
Cousin Itt: Jerry Manuel's post-game press conferences are as unintelligible as anything Cousin Itt ever said, maybe more so.
Grandmama: Carlos Delgado. He's ancient, but somehow still manages to stick around.
Lurch: Who can forget good old Lurch? Tall as a skyscraper and always with a look on his face like he ate a bad plate of Clams Casino. While we still like Mike Pelfrey, this season the tallest Met resembled the Addams Family butler more often than not. As his earned run average went over five, you could almost hear that guttural Lurch growl coming out of Mike. Speaking of Clams Casino:
Wednesday: A truly disturbed kid, but can you blame her? Look who her role models are? And because her name corresponds with my day to post, I'm gonna step up and take this one for the team. From now on you can refer to me as Angry Ward Wednesday Addams.
OK, that's all for this week. It really was a scre-am. Stay tuned for Different Matt tomorrow, same time same channel. GO TWINS!