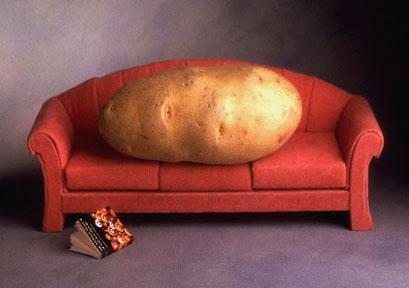 BRISTOL, CT – Summer's over, which Mama Nature thunderously hammered home during the recent baseball games in the Bronx and Philthy. Yet, we needn't be sad, Mattville… After all, it's Rocktober! And Rocktober is great for a lot of reasons:
You got your Fall colors, what with the leaves and foilage.
You got your Fun activities like Oktoberfest and Halloween.
You got your Chance to hide your imperfect physique under a layer or two – it's light sweater weather.
WNEW plays Two For Tuesdays during Rocktober! Or at least they do in Time Warp Tony's world.
But the best part of Rocktober is that it's that time of year that makes for Couch Potato Heaven (potatoe, if you're Dan Quayle), that special time of year in which all sports collide. The leagues are all going; baseball, football, hockey and basketball in the USA and rugby and soccer beyond. Get your nachos, ice down a stiff one, grab your clicker and enjoy! But wait… What's that annoying sound?! @#$&! Not again! Not them! That's right, it's the one thing WRONG with Rocktober: the Personnel chosen to do the games tend to suck! And we take that Personal! Let's review:
Chip Caray: Ugh. This guy has us contemplating switching to John Sterling or Joe Morgan at least twice a game… Okay, maybe he's not that bad but how the frogging tile is he the voice of the playoffs for a station with so much invested in the post-season?! Suffice to say, he ain't his Grandpa:
Ernie Johnson, Jr.: Please, just give us Senior. Junior is horrible. With a hangover, you might think you're watching Jack Cafferty, which would be cool, but HE AIN'T JACK! He must have naked pictures of Ted Turner.

Gary Apple: SNY doesn't get it. Aside from not putting MTM on, they march out this poor man's Marv Albert – very poor – with his Don "Hockey Night In Canada" Cherry collars and quaffed doo and then follow him up with Quasimodo doppelganger Chris Carlin.
Mike Reiss & Eric Allen: Oy vey! One makes Buster Olney look like a member of Hells Angels and the other looks like Tubbs from Miami Vice but seems more likely to be selling Bibles.
Alas, not all is lost. Other than having Gary, Keith and Ron do every game of every sport, here's our nomination for TBS as a Must-hire to replace Ernie "I'm No Jack Cafferty" Johnson:
That's all for today, PLEASE tell some people about MTM and look for Angry Ward, tomorrow.
NOTES: Joe Girardi needs to stop running over to his info binder and let a guy like Robertson finish the inning. Girardi blew that game… Charlie Manuel is downright lovable… Joe Torre is a turd. He denied a young Angry Ward an autograph while managing the Mets… Had a dream that Chase Utley died last night – not kidding. It was unsettling, to say the least. We actually like the guy…. Got to meet some San Jose Sharks during their practice at Chelsea Piers. Nice guys that took time for pix and autographs and gave kids sticks. That said, we need to point out they beat the Blue Shirt's backup goalie last night… Kyle Orton is the luckiest man in America, making Cookie the luckiest girl in America.