NOT TIGER'S MANSION, FLA – It's Friday and before you start your groaning about a post about 'WIVES,' give it a chance. We've had more talk of Tiger Woods' indiscretions than is necessary. I mean, I am pretty sure if we did a media poll, it'd show that Tiger's name has been mentioned more than Santa Claus' this December.
My Favorite Santa Claus…EVER.
Yet for all the tawdry details about this story, the women are ALL getting a bad rap. Sure, it's a little sleazy for the front nine to talk about their affairs with the CHEETAH… I mean… Tiger. But, what about Tiger? Now they're talking that perhaps he has a Sex Addiction?!? Come on!!! Is ESPN immediately contacting all these philandering sports celeb and telling them 'use that sex addiction thingy as an excuse.' (And yes… I am still on the hunt for Steve Phillips but I'm thinkin' he's not a member of my gym or hitting our local Stop n' Shop anytime soon.)
And Tiger's wife? I think Elin should've taken the revised pre-nup where she gets upped the millions to stay for two more years (for appearances clearly). She should get herself a hot boy-toy to flaunt in front of Tiger's face, and then take the money and run. For all the humiliation, she MORE than deserves it (not to mention what she'll have to shoulder doing the lion's share of raising the kids and explaining it all).
Take a look at your wife, your significant other… your other hand and think about what you've got. Remember; the grass IS NOT always greener on the other side. And if you're REALLY not that happy with what you've got, remember; even professional athletes sometimes look to trade Up.
Just in case Mark Teixiera is looking to trade up.
Taking a break from all the baseball trading and deals (and taking a cue from West Coast Craig), I bring you a list of Professional Athletes and Their Wives, or girlfriends, in some cases. The list is ranked, of course, using the WCCCS: West Coast Craig Cow System:
#10: Kendra Wilkinson & Hank Baskett: Ex-playboy Playmate (and Hef's Nurse-Maid) Kendra wanted a baby and married ex-Eagle (and current Colt) Hank Baskett to do it. She's got loads of cash from her Girls Next Door series, which gives her a few cows. But that LAUGH?!?! Horrid. That and the thought of her having been with Hef knock her down several cows. THREE COWS AND SOME VIAGRA.
#9: Nick Swisher & Danielle Gamba: Research brought me across Danielle because I NEVER KNEW. She is very attractive in a corn-fed, freckles and fake boobs kinda way. There are plenty of internet images of her, so I'll let you do your own research – and now you may have a reason to hate Nick Swisher that much more. He talks too much, he's goofy, he's got a World Series ring… and his wife is alllllllllright. FOUR COWS AND A BUCKET OF CHAW.
#8: Jamie Kotsay & Mark Kotsay: Mark Kotsay has been around some Sox. Red Sox.. White Sox. Seems like his wife not only knows how to field, but she knows how to wear 'em. FOUR COWS, TWO CHICKENS AND AN INEXPERIENCED BUT TRAINABLE MILK-MAIDEN.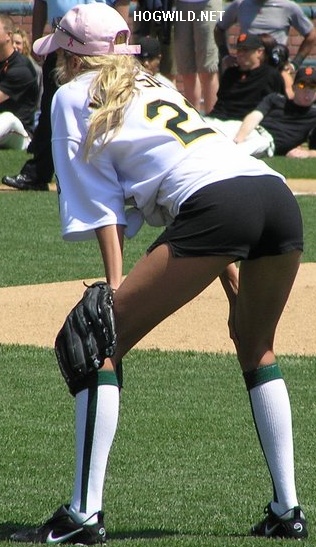 #7: Gabrielle Reece & Laird Hamilton: She's tall and gorgeous. (For the nay-sayers here, this is proof.) And she plays some MEAN volleyball. FOUR COWS AND A VOLLEYBALL NAMED WILSON.
#6: Dave Justice & Halle Berry: Dave Justice? Where the hell is he now?? Who cares?!? I never got behind him as a Yankee fan after the stories that he bounced Halle Berry around. For shame. A stunning 'Catwoman' and she's STILL gorgeous into her 40's. Meow. SIX COWS AND A VOUCHER FOR A SELF-DEFENSE COURSE.
#5: Adrianne Lima & Marko Jaric: Serbian born basketball players plays for the Memphis Grizzlies. THE WHAT, WHO??? hat's a basketball team? I had no clue. Well, he married a Victoria's Secret hottie who (it is rumored) to have saved her virginity until her wedding night. The two wed in January and had their first child in mid-November. Yeah… that is why you didn't see her in the Victoria's Secret 'Fashion Show' this December. Shut up… I know you were watchin'. SEVEN COWS AND A PAIR OF ANGEL WINGS
#4: Giselle Bundchen & Tom Brady: The Patriots may be losing their grip on any chance of a championship, but Tom's not cryin.' SEVEN COWS AND A HORSE You're welcome for my re-running this picture.

Giddy up.
#3: Mike Piazza & Alicia Rickter: Back to our caped crusaders… HOLY BEARDS BATMAN!!! Have you ever caught sight of Mike Piazza's wife? Wow! She's a STUNNER and I'm pretty sure she can gun a guy down at 2nd much better too. SEVEN COWS AND A FAKE BEARD.

Proof that arranged marriages CAN be good!
#2: Veroneka Verekova & Petr Nedved: Ah, well… He's still got his wife. The former Ranger is now relegated to playing back in his native, Czech Republic, but at least he's got his hottie wife to keep him warm. EIGHT COWS AND SOME VODKA: SHE'S QUITE FETCHING.
#1: Joe DiMaggio & Marilyn Monroe: They don't make 'em like Marilyn anymore. A HERD OF COWS AND THE WHOLE DAMN FARM.
There ya have it fellas. Now, who the hell has the countdown ticker of how many days 'til Pitchers and Catchers report?