NEW YORK, NY – Ah… the smell of fresh cut grass, crisp spring air and the crack of the bat – or was that Kevin Ware's leg? Hard to tell. Either way, spring has finally sprung and that means endless possibilities and the start of something new – the temp is approaching 60 here in NYC, the budding trees are in pre sneeze mode, the tournament is down to the Final Four and baseball is back baby! But let me just take a moment, kidding aside to say that injury Sunday evening was as heartbreaking as it was nauseating to watch. I imagine every person in the country is pulling for that young man to make a full and speedy recovery. Everyone except Sally Field that is. After all, the kid definitely has a bright future as the official spokesperson for Boniva and one can only assume Sally must be feeling a little threatened by Mr. Ware's sudden, overwhelming credibility.
Speaking of sudden credibility, how about this Tiger Woods fellow? Where did he come from? With back to back tournament wins in March, Tiger has reclaimed the #1 world standing heading into this month's Master's, and Nike seems to have hopped back on the bandwagon, hiring Charlie Sheen to produce this modest ad. Good for Tiger. Really taking the classy road here as he works to restore his image from the worst high profile sex scandal in recent memory. By that flawless Tiger logic, Louisville should be able to heal Ware's leg with two more wins…..I wonder how Lindsay Vaughn feels about the ad. It's not like she can do much winning of her own on that knee of hers…. wait, never mind. I just got a mental picture… And it wasn't her skiing. Son of a….. Tiger wins. Again.
While Woods may have found his swing, I've got my money on Jason Dufner– the namesake of the new meme sweeping the sports world, known as "Dufnering". Just look at that posture. That determined look. This guy has Green Jacket written all over him. And man is it easier to do than Planking or Tebowing….hell, I'm Dufnering at my desk as I write this!


But enough about golf. It's baseball season! And what better way to kick off the 2013 campaign than with a little Texas on Texas hardball? Monday morning saw the Astros wake to find themselves in sole possession of first place for the first time since April 20, 2007 (fact).  Just a remarkably heartwarming story. The team with the lowest payroll in all the land looked like the real deal as they made their American League debut in classy, understated new garb which makes you forget that the old "Tequila Sunrise" of the Nolan Ryan era ever existed.

Rick "What's a strike zone?" Ankiel's three run round tripper – the first homer of the 2013 season – and a quality start from Chuck Norris' chubby nephew, Bud Norris, helped the 'Stros take home an 8-2 win over their newfangled division rival, Rangers. The tough loss left Rangers manager Ron Washington rubbing not his head but his nose in the post-game press conference as he desperately searched for a way to scratch that "itch". "Hey, Josh is an Angel now, so Ron Ron's gotta find a way to have some fun this year." Washington remarked with a wink, to the stunned beat writers in attendance.
As for the local Opening Day games, The Sux and the Yanks played their usual 6 hour marathon – the Sux won this time… While everything the Mets threw – including a 14-year minor-leaguer named Rice – worked. Ike Davis did get the golden sombrero, though. (Yes. I used a picture of Ron Washington to represent the start of the 2013 MLB season. Deal with it).
Hey! If the Astros can come out of the gate firing, it all goes to show that with the coming of spring, anything is possible. If Rick freaking Ankiel can reinvent himself to the point that he's hitting, not giving up the first major league home run of a season; if Tiger Woods can return to #1 form without a go to stable of porn stars; if another golfer can become famous just by slouching; then I know, that someone can find a way to take on the Jays in the AL East. And if someone can challenge Toronto for the division surely that means that the Jets can have a decent draft later this month. And if the Jets of all teams, can have a decent draft, then dagnabit this kid Kevin Ware kid will play ball again. It's the spring. It's a time for optimism. A time to start fresh. Exhibit A: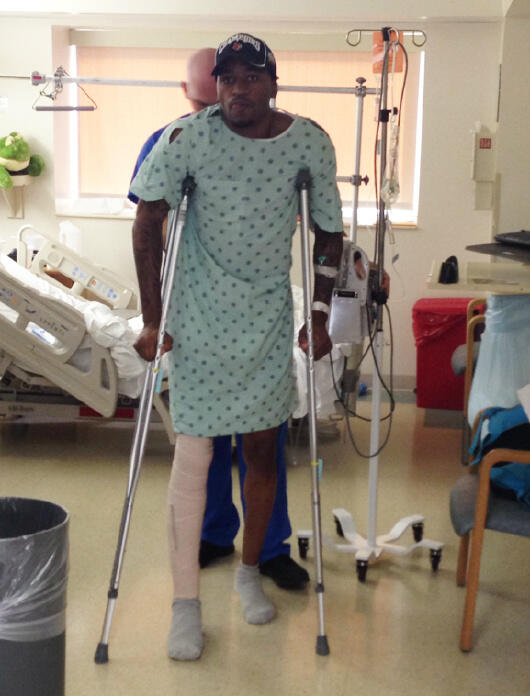 Dude's already back on his feet. My hat's off to him. Here's to seeing Ware on the court in the tourney next spring.
Most importantly, however, here's to a brand new season of baseball ladies and gentlemen!…..As you can see, like Tiger, I too have my priorities in a strange place. On deck tomorrow as always, is Angry Ward.