BRONX, NY – So much going on in sports these days and, like the world itself, not much of it is good. If you get your rocks off to golf or twist your nipples watching NASCAR, then you're pretty much set. But if you're still patiently waiting on the return of basketball and hockey and the start of baseball and football, you've just kinda been sitting on the tarmac at LaGuardia Airport with no food or beverage service, and the toilets starting to overflow. As Ben Whitney mentioned yesterday, hockey is about the only of those sports that looks like it's  somewhat got its act together. As for the rest…
Basketball. Look, I'm still fairly sure that the NBA will get their sh!t on the same page, finish the season, and start the playoffs. I say this because I'm assuming that eventually LeBron James is going to demand it. He's still the biggest star in the league and he wants to win a championship this year, so it makes sense that he'll force the issue. That being said, how on Earth has Kyrie Irving become such dominant voice in these negotiations? Am I missing something here? Are there a whole bunch of players in the league that truly respect him and see him as a spokesperson? Last I checked, the guy can't even stay on the court. So why is he even talking about this at all? His teammate Kevin Durant is still on the mend too, but I'm guessing that most players would rather hear from him than Mr. Irving.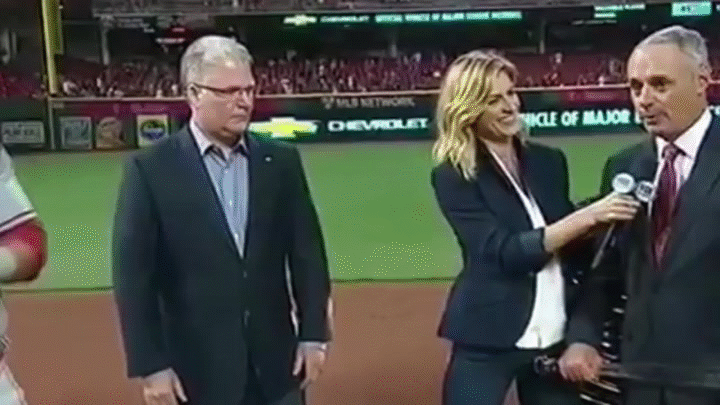 Baseball. Meanwhile, our National Pastime has decided that the best PR move would be to pull a Howard Beale, from the movie Network, and try to get everyone to tune in to watch it commit suicide on national TV. Rob Manfred, who hasn't had a hit since his Earth Band covered Springsteen's Blinded By the Light in 1976, has gone from 100% sure there would be a season to being in the dumps with the mumps as the 2020 season comes crashing to the ground. Oh well, in the meantime we still can wait around to see if Manfred and the Yankees can keep that sign-stealing letter buried. Hope not.
Football. Ya gotta save the best for last. Football seemed like the best bet to have a shot to have some sort of normal season, but it's already a mess. Black Lives Matter is not going anywhere, so the owners can't keep hiding on their yachts forever. And let's not forget that little thing called COVID-19. This week it was reported that players on both the Houston Texans (worst team name in football) and the Dallas Cowboys (Zeke Elliott's "feed me" routine currently might be about hydroxychloroquine) have tested positive for the virus. I was accused of being a bit too "bearish" on the upcoming NFL season, but why not? They haven't really started doing anything yet and players are testing positive. Check back in August and September when the sweat and spit are flying and guys are trying to gouge each others' eyes out and administer impromptu rectal exams to recover a fumble. In other uplifting news, New York Giants kicker Aldrick Rosas was arrested on a misdemeanor hit and run charge in California. Giants brass is very skeptical however, as Rosas hardly hit anything last season.
Finally, we have College Football – which is always a mess – and Oklahoma State HC Mike Gundy getting taken to task by his start running back Chuba Hubbard (as good a name as the Texans' is bad) for wearing a dumbass t-shirt that I won't even give time to here. They appear to have smoothed things over, but I'm not buying anything Gundy is selling. Screw him and other NCAA coaches who think they are beyond reproach.
I
sincerely hope some of these sports get going, but you're really kidding yourself if you think the problems facing this world at this moment are going to easily go away.
Come back tomorrow for Buddy Diaz. The only signs he ever stole were at the intersection of Seaman Avenue and Cumming Street in the Inwood section of Manhattan.